Batman - Remote Controlled Batmobile?
Right after Batman and Vale escape from the Museum, Batman and Vale get out of the Batmobile, and run from the Joker's goons. Batman then calls for the Batmobile by remote control. As the Batmobile heads towards Batman, you can see a hand driving the Batmobile. So a Remote Control Batmobile? I doubt it!
Visual Proof!
See the examples below and
post your pictures
too.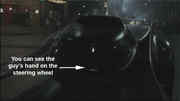 The driver's hand during the remote control Batmobile scene.
Rated 4.3
/10 (19 ratings)
Your opinion?
Special Requirements:
VHS, good eyes
Contributed By:
Gregsta
on 10-30-2001 and
Reviewed By:
Webmaster
---