Tomb Raider: The Movie - Knife
This slip up occurs towards the end of the movie. It is either when the guy gets stabbed or when the knife gets taken out. Anyway, there are blood stains on the knife and you can clearly see that the blade of the knife either retracts into the handle or comes out of the handle and not out of the person.
Visual Proof!
See the examples below and
post your pictures
too.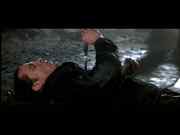 The knife is pulled out. Looks okay to me.
Rated 4.1
/10 (48 ratings)
Your opinion?
Special Requirements:
The movie, any copy.
Contributed By:
joevile
on 08-23-2001 and
Reviewed By:
Webmaster
---