Fifth Element, The - Mr. Willis?
When Bruce Willis and Milla Jojovich go to see the monk figure again. The monk answers the door and asks, "Yes, Mr. Willis?" Obviously Bruce Willis doesn't carry his name in this movie.
Visual Proof!
See the examples below and
post your pictures
too.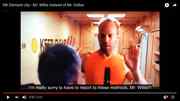 Image of slipup with subtitles.
Rated 5.6
/10 (64 ratings)
Your opinion?
Special Requirements:
The Fifth Element Movie
Contributed By:
Anonymous
on 08-22-2001 and
Reviewed By:
Webmaster
---