Harry Potter and the Philosopher's Stone/Harry Potter and the Sorcerer's Stone - 2 Wands?
On page 53, there is a list of materials that he will need for hogwarts it reads:
1 wand
1 cauldron (pewter, standard size 2)
1 set glass or crystal phials
1 telescope
1 set brass scales
1 wand*
*is says 1 wand twice!
Visual Proof!
See the examples below and
post your pictures
too.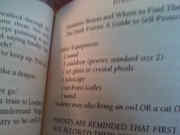 "1 wand" listed twice on page 53 of the UK first edition, first printing Philosopher's Stone. This error is only present in the first printings.
Rated 3.6
/10 (874 ratings)
Your opinion?
Special Requirements:
eyes, the book
Contributed By:
Anonymous
on 01-17-2000 and
Reviewed By:
Webmaster
---