American Graffiti - Who's That?
The slip up occurs in the beginning of the movie. John has just set off to cruise and is talking to that guy in the car. The guy tells John where the cops are at at the end of the conversation and John tells him thanks. Right when he says thanks look very hard and you can see a person sitting next to John when nobody else was supposed to be in the car.
Visual Proof!
See the examples below and
post your pictures
too.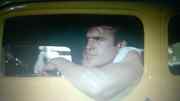 Mysterious person riding with Milner
Rated 7.2
/10 (36 ratings)
Your opinion?
Special Requirements:
N/A
Contributed By:
DixieChick
on 08-21-2001 and
Reviewed By:
Webmaster
---