Family Guy - Joe's Legs
In the episode where Brian becomes a police dog, he and Joe go to a church to bust a group of crack peddling midgets. When the midgets attack Joe, who is supposedly paralysed from the waist down, he kicks one of them away. How do you do that without use of your legs?
Visual Proof!
See the examples below and
post your pictures
too.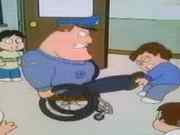 It's your call
Rated 6.2
/10 (373 ratings)
Your opinion?
Special Requirements:
A TV
Contributed By:
ogbogian
on 08-20-2001 and
Reviewed By:
Webmaster
---