Fifth Element, The - Immortal Assistant
After Zorg blows up the phone booth that his unlucky assistant is standing in, the silhouette of the assistant (the dummy they used) is still visible standing, holding the phone to his ear, in the aftermath of the explosion!
Visual Proof!
See the examples below and
post your pictures
too.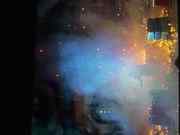 Dummy still seen after explosion. Arm supposed to be resting on phone booth that exploded
Rated 5.9
/10 (20 ratings)
Your opinion?
Special Requirements:
Eyes
Contributed By:
Yukanojo
on 08-20-2001 and
Reviewed By:
Webmaster
---