Mad Max 2 - Who's That Man with the Beard
During the last scene when Max is driving the petrol tanker full of dirt, the blooper occurs just after Wez rips the door off the cab.
The next time we see Max, If you look between his legs and the bottom of the trucks steering wheel, you can see a stunt man crouching down in the front passenger side of the truck .
All Hail the Road Warrior !
Visual Proof!
See the examples below and
post your pictures
too.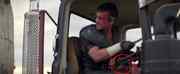 Man with beard
Rated 6.8
/10 (41 ratings)
Your opinion?
Special Requirements:
Dvd, Video
Contributed By:
Spud
on 08-20-2001 and
Reviewed By:
Webmaster
---