Fast Times at Ridgemont High - Reflection!
This slip-up happens when Brad drops his sister off at the "bowling alley" or whatever. She is actually going to get an abortion. Anyway, after Brad stops the car, and his sister opens the door, you can see the reflection of the camera man! It's hard to miss.
Visual Proof!
See the examples below and
post your pictures
too.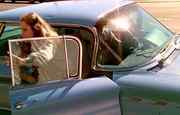 Is it a cameraman?
Rated 7.3
/10 (42 ratings)
Your opinion?
Special Requirements:
a quick eye, maybe a pause button
Contributed By:
Kyle
on 08-17-2001 and
Reviewed By:
Webmaster
---