Back To The Future - The Amp at Doc Brown's House
In the beginning of the movie, Marty is at Doc Brown's house. When he plays a chord with the volume all the way up, he is thrown backwards. The cable that was attached to Michael J. Fox is clearly seen. Wasn't there a way to hide that?
Visual Proof!
See the examples below and
post your pictures
too.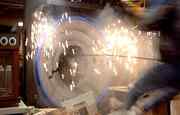 The cable is clearly visible...
Rated 5.2
/10 (36 ratings)
Your opinion?
Special Requirements:
video and a keen eye
Contributed By:
Anonymous
on 08-15-2001 and
Reviewed By:
Webmaster
---