Free Willy - Hugging the Wrong Person
After Willy jumps over the rocks at the end of the movie, Jesse goes to hug Glenn. They show him hugging Glenn from a distance, but when they show a closeup of Jesse's face, he is hugging Annie. You can tell this because they're wearing different jackets and if you know what you're looking for it's pretty easy to spot!
Visual Proof!
See the examples below and
post your pictures
too.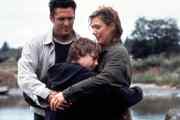 This picture shows that Jesse hugged both his parents, and not just Glen, so it's not a slip up.
Rated 5.8
/10 (23 ratings)
Your opinion?
Special Requirements:
just watch the movie
---