Wizard of Oz, The - Ruby Slippers...They're Gone!
Just after the apple tree begins throwing apples at Dorothy and the scarecrow, watch Dorothy's feet very carefully...for just a second you will see that she is wearing black shoes and NOT the ruby slippers she wears in this scene.
Visual Proof!
See the examples below and
post your pictures
too.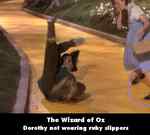 Black shoes instead of ruby slippers
Rated 7.3
/10 (126 ratings)
Your opinion?
Special Requirements:
well...DVD would make it easier
Contributed By:
dan
on 08-03-2001 and
Reviewed By:
Webmaster
---