Tomb Raider: The Movie - Locket?
At the final fight scene in the Siberian caves once she kills the evil dude, when she is about to leave he has the locket with the photo. But before, it was around her neck. So how did he end up with it? Magic? No, a slip-up!
Visual Proof!
See the examples below and
post your pictures
too.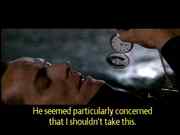 Is it a locket or a watch? I guess it's both.
Rated 1.4
/10 (52 ratings)
Your opinion?
Special Requirements:
Just the movie
Contributed By:
Anonymous
on 07-30-2001 and
Reviewed By:
Webmaster
---