Harry Potter Series - Why Can They Use the Stuff?
In book four it says over and over again that muggle stuff such as bugging cannot be used in the Hogwarts ground. Yet Harry has a watch that works perfectly fine and Colin Creevey has no problem taking pictures.
Visual Proof!
See the examples below and
post your pictures
too.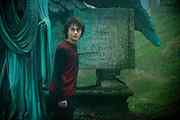 i don't uderstand this picture. LOOK AT THE GRAVE STONE. it's from the 4th movie... the part where harry is transported to voldemorts rebithing, after the maze challenge. we know voldemort killed his father and his fathers parents (stated briefly in
Rated 4.2
/10 (1017 ratings)
Your opinion?
Special Requirements:
Any edition of all 4 books, an eye, and a brain
Contributed By:
Courtney
on 07-30-2001 and
Reviewed By:
Webmaster
---