Fast and the Furious, The - Passenger Seat
In the 4 car race with Brian, Dominic, Eddie and the Asian guy, Brian blows out his passenger side floor plate after using the second Nos burst. But when he picks up Dominic to escape from the cops, Dominic sits comfortably in the passenger seat.
Visual Proof!
See the examples below and
post your pictures
too.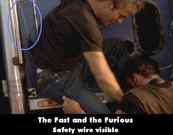 The Fast And The Furious: Safety Wire Visible
Rated 5.9
/10 (804 ratings)
Your opinion?
Special Requirements:
watch the movie
Contributed By:
Grant
on 07-26-2001 and
Reviewed By:
Webmaster
---