Star Wars Episode 4: A New Hope - Racial Incongruities
In the cantina scene, when they are showing all the various different species, there is a shot of two Duros (the big headed dark blue guys with red eyes). The one on the right has huge purply hands and the one on the left has small human hands in white gloves. Which is the freak?
Visual Proof!
See the examples below and
post your pictures
too.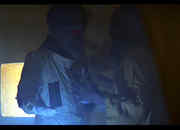 Gloved hands or purple hands?
Rated 2.7
/10 (27 ratings)
Your opinion?
Special Requirements:
view SW
Contributed By:
Psyche
on 01-07-2000 and
Reviewed By:
Webmaster
---