Tomb Raider: The Movie - Physics
Do you remember the part where Lara stops time and reverses the knife on Mr Powel? The Knife is moving forward when Lara stopped time but when Lara reversed the knifes' position and time was resumed it somehow changed direction and went back to Mr Power. Now how Lara was able to reverse the direction of the knife just by changing the position in mid air I don't know, if my physics is right the knife would've kept going straight but would've hit Alex on the handle not the blade. Well I guess those millions were spent on Angelina's ...ahem ...padding not the script.
Visual Proof!
See the examples below and
post your pictures
too.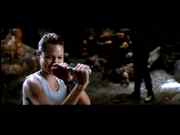 She couldn't just grab the handle?
Rated 4.0
/10 (76 ratings)
Your opinion?
Special Requirements:
Watch the movie
Contributed By:
Anonymous
on 06-17-2001 and
Reviewed By:
Webmaster
---