Star Wars Episode 4: A New Hope - Nice Shirt!
Although I think that this mistake must have been pointed out already, just before the Millenium Falcon leaves Tatooine there is a shot of Han in the cockpit- check out the guy in the green short sleeved shirt hiding around the corner behind Han. He's only there breifly, but just watch out whenever you see Han in the cockpit around this stage in the film and you can't miss it!
Visual Proof!
See the examples below and
post your pictures
too.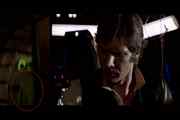 To the left is the green-shirted man, in the shot right after the Falcon takes off from Mos Eisley.
Rated 7.1
/10 (104 ratings)
Your opinion?
Special Requirements:
Any version of Episode 4
Contributed By:
Anonymous
on 01-07-2000 and
Reviewed By:
Webmaster
---