X-Files, The - No Pants
In the episode "Small Potatoes" Gillian Anderson appears to have no pants on for a quick second. Near the end when her and Mulder's imposter are sitting on the couch Mulder bursts in the door and she looks quickly at the imposter and right before she stands up if you pause your VCR real quick you see her knees. Hmm...
Visual Proof!
See the examples below and
post your pictures
too.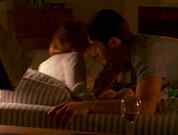 See the knees??? They look bare to me.
Rated 4.7
/10 (87 ratings)
Your opinion?
Contributed By:
Annie
on 06-14-2001 and
Reviewed By:
Webmaster
---