Terminator 2: Judgement Day - You Can't See Halon Gas
When Arnold shoots the computer room door open clouds of billowy white gas appear and Dyson says it's the Halon fire system. Halon is a colorless gas. It was CO2.
Visual Proof!
See the examples below and
post your pictures
too.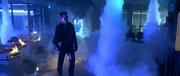 Courtesy of the Simonator
Rated 3.8
/10 (51 ratings)
Your opinion?
Contributed By:
eskovan
on 01-03-2000 and
Reviewed By:
Webmaster
---