Pulp Fiction - Sword
Go to the bit where Butch has just stabbed the first man. It will cut to Z, and he will have a sword in front of him. Cut back to Butch, who will remove the sword and point it at Z.
Visual Proof!
See the examples below and
post your pictures
too.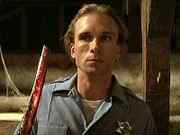 "zeds dead"
Rated 3.2
/10 (28 ratings)
Your opinion?
Special Requirements:
none
Contributed By:
joho
on 06-06-2001 and
Reviewed By:
Webmaster
---