Beverly Hillbillies, The - No Mule Deer in Tennessee
At the beginning of the show ,when the theme song is being sung, watch the cabin scene as the Clampetts are driving off. In the front of their Tennessee cabin stands a Mule Deer doe. I don't believe there are any Mule Deer in Tennessee. I can't believe anyone hasn't noticed this one before.
Visual Proof!
See the examples below and
post your pictures
too.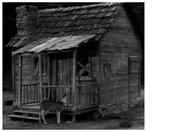 Screen Shot of Mule Deer
Rated 3.1
/10 (117 ratings)
Your opinion?
Special Requirements:
Watch any Episode
Contributed By:
Anonymous
on 06-05-2001 and
Reviewed By:
Webmaster
---