Back To The Future - Cable on Phone Book
When Marty first goes back in time and goes into the soda shop he picks up the phone book in the phone booth to find Doc's number. The book is connected to the wall by a cable. In 1955 the phone books were attached with a small chain, cables were not used until the late 60's or early 70's.
Visual Proof!
See the examples below and
post your pictures
too.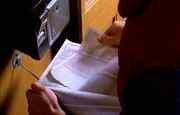 Phone book cable
Rated 3.3
/10 (71 ratings)
Your opinion?
Special Requirements:
VCR, TV
Contributed By:
JW
on 06-05-2001 and
Reviewed By:
Webmaster
---