Childs Play - No Blood?
If you recall during Andy's stay at the mental hospital, there was a scene where Chuckie was chasing Andy. He chases him into a room where the doctor finds Andy and is trying to sedate him. Chuckie stabs the doctor and then attaches an shock therapy helmet to the doctors head. As Chuckie electricudes him, the doctor starts to bleed from his eyes and mouth. When the film cuts away and then back to him. The doctors eyes have absolutely no blood in them.
Visual Proof!
See the examples below and
post your pictures
too.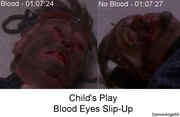 First there is blood in his eyes, then seconds later the blood is gone.
Rated 5.9
/10 (49 ratings)
Your opinion?
Special Requirements:
VCR
Contributed By:
Anonymous
on 06-03-2001 and
Reviewed By:
Webmaster
---