Childs Play - Disappearing Gloves
Opening scene where Chris Sarandon is chasing Brad Dourif into the toy store. During the gunfight, Sarandon has gloves on. As he enters the store he is wearing gloves. The next shot, the gloves are off. The next scene, the gloves are back on and he takes them off by biting the fingertips and pulling them off.
Visual Proof!
See the examples below and
post your pictures
too.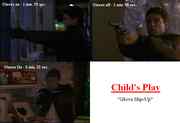 In the first image you see that the gloves are clearly on, less than 10 seconds later they are off and then back on again in about 20 seconds.
Rated 5.0
/10 (32 ratings)
Your opinion?
Special Requirements:
VCR
Contributed By:
Anonymous
on 06-03-2001 and
Reviewed By:
Webmaster
---