Terminator 2: Judgement Day - Unlimited Ammo
In the scene where Arnie is shooting his way out of Cyberdyne Corp. with the chain Gun, the ammo to his right is quite clearly not feeding into the gun, yet the gun is still shooting! Even when the camera cuts several times, no ammo has been used.
Visual Proof!
See the examples below and
post your pictures
too.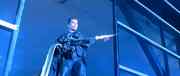 Admittedly it's quite hard to see if its moving on a screenshot! c/o The Simonator
Rated 3.3
/10 (94 ratings)
Your opinion?
Special Requirements:
The Movie, Stupid!!!
Contributed By:
Stewart
on 12-21-1999 and
Reviewed By:
Webmaster
---