Mummy Returns, The - Poor Choice of Weapons
On the trailer, there is a fight scene in which two women are fighting each other. A pair of Sai (three pointed truncheon) are being used as weapons. Any practitioner of Kobudo knows that the Sai is an oriental (Okinawan) weapon from the 1600's, not an Egyptian weapon from 2000BC.
Visual Proof!
See the examples below and
post your pictures
too.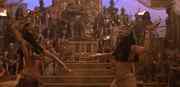 Sai fight from the Mummy Returns
Rated 3.4
/10 (153 ratings)
Your opinion?
Special Requirements:
It's on the promotional trailer
Contributed By:
Jim Z.
on 05-02-2001 and
Reviewed By:
Webmaster
---