Titanic - Funnel Wrongly Smoking
Various times in the film the ship is showed with all four of its funnels smoking when in-fact only 3 of the funnels were 'active' and the fourth was placed there because when the ship was being built the designers/engineers said it didn't look right with only 3 funnels so they added another one. The fourth funnel would not have been smoking, I have looked this up and it's true!
Visual Proof!
See the examples below and
post your pictures
too.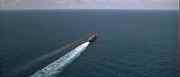 looks like all 4 are smoking....
Rated 6.1
/10 (162 ratings)
Your opinion?
Special Requirements:
Just the movie
Contributed By:
Sam Scholey
on 04-26-2001 and
Reviewed By:
Webmaster
---