Star Trek: The Next Generation - Colder Than Absolute Zero
Early in the episode, a crew member measures and announces a temperature reading of less than minus 273.16 degrees Celcius. Jacques Charles would turn in his grave!
Visual Proof!
See the examples below and
post your pictures
too.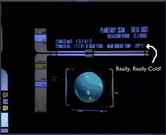 Enterprise reports 22 degrees below absolute zero! Zow!
Rated 6.8
/10 (85 ratings)
Your opinion?
Special Requirements:
The episode called "Casino Royale"
Contributed By:
Nando
on 05-02-2001 and
Reviewed By:
Webmaster
---