Lord of the Flies, The - Piggy's Glasses
Well, basically, Piggy is near-sighted, and his
glasses are used to light the fire. This is wrong,
as if he was near-sighted, the lenses would be
concave not convex, and would scatter the
sunlight not concentrate it on a point.
Visual Proof!
See the examples below and
post your pictures
too.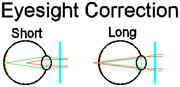 Illustration of how the two types of glasses work -- note how glasses for near sight diverge the rays
Rated 4.7
/10 (646 ratings)
Your opinion?
Special Requirements:
Just a copy of Lord of the Flies
Contributed By:
Duncan Cross
on 12-15-1999 and
Reviewed By:
Webmaster
---