Star Wars Episode 6: Return of the Jedi - I Guess VW Bugs Were Popular in Star Wars, Too
Go to the scene where the two Imperial Officers on the Super Star Destroyer in the end battle. One says, "Intensify forward firepower!" The other then says, "Too late!" and the A-Wing comes crashing in.
If you slow motion that part with the A-Wing flying through, you'll see that it's actually a Volkswagon bug flying in sideways.
Visual Proof!
See the examples below and
post your pictures
too.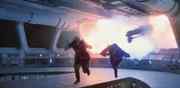 You can see a wheel on the car
Rated 7.2
/10 (131 ratings)
Your opinion?
Special Requirements:
N/A
Contributed By:
Xizor42
on 05-02-2001 and
Reviewed By:
Webmaster
---