Grease - Blurred Out Sign
I don't know if it's an historical innacuracy that the filmmakers attempted to remedy through very poor editing or the result of a sponsor pulling out, but in the scene where Danny sees Sandy with Chissum at the Polar Freeze, the sign on the wall behind Sandy and Chissum is blurred out. It looks like an old timey Coca-Cola ad, but at certain points in the scene, the blur-out spreads into Sandy's and Chissum's hair.
Visual Proof!
See the examples below and
post your pictures
too.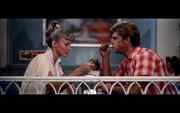 Grease blurred picture
Rated 4.2
/10 (67 ratings)
Your opinion?
Special Requirements:
None
Contributed By:
EricKoch
on 12-15-1999 and
Reviewed By:
Webmaster
---