DuckTales - Double Deweys!
In the episode, "Ducky Mountain High", when Scrooge and his nephews and Bubba are walking to Goldie's log cabin house, they are almost flattened by a giant rolling boulder. Just as the nephews say "Lookout uncle Scrooge!" two nephews are seen to be both colored blue (Dewey). Right after that, Bubba grabs a tree branch and "plays ball" as he hits the boulder toward a cave, traping the Beagle Boys who sent the rock.
Visual Proof!
See the examples below and
post your pictures
too.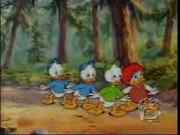 Screenshot of Huey colored as Dewey.
Rated 6.6
/10 (14 ratings)
Your opinion?
Special Requirements:
Watch DuckTales on Toon Disney
Contributed By:
Anonymous
on 05-01-2001 and
Reviewed By:
Webmaster
---