Halloween - Headstone on the Bed
When Lori (Jamie Lee Curtis) goes across the street to the house almost at the end of the movie to check on Annie & some of her other friends, you might want to notice that when she finds her friend Annie lying on the bed upstairs dead with Judith Myer's headstone, Notice how the bed does not sink in from the stone. It does a little bit but no where near what it would if that were a real headstone. Please let me know what you-all think....
Visual Proof!
See the examples below and
post your pictures
too.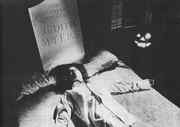 Annie Brackett with "Judith Myers" headstone above her head
Rated 3.1
/10 (47 ratings)
Your opinion?
Special Requirements:
VCR, DVD,
Contributed By:
Anonymous
on 05-03-2001 and
Reviewed By:
Webmaster
---