Back To The Future - Mr. Sandman
When Marty goes to 1955, "Mr. Sandman" was playing. That song wasn't released until 1958, OOPS!
This not a Slip-up. Mr. Sandman was written and recorded in 1954.
Visual Proof!
See the examples below and
post your pictures
too.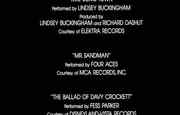 Mr. Sandman - closing credits
Rated 5.5
/10 (391 ratings)
Your opinion?
Special Requirements:
The Movie
Contributed By:
rupturedspleen
on 12-13-1999 and
Reviewed By:
Webmaster
---