Ferris Bueller's Day Off - Baseball Glove
At the end of the movie where Ferris throws a baseball at the sound system to turn it off, you notice he throws it with his left hand (Matthew Broderick is really left handed too) but when the ball lands in the baseball glove on the floor, it is a right-hander's glove (i.e. it goes on the left hand).
Visual Proof!
See the examples below and
post your pictures
too.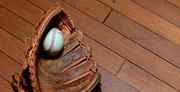 Right-handed glove...
Rated 3.2
/10 (225 ratings)
Your opinion?
Special Requirements:
None
---