Arlington Road - Blood on Shoes
In the first scene the boy has blood dripping onto his shoes. We see it, then we don't, then we do again. Just an editing error, but should never get past them.
Visual Proof!
See the examples below and
post your pictures
too.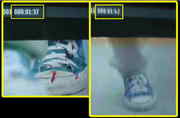 Bloody shoe on Arlington Road
Rated 4.0
/10 (25 ratings)
Your opinion?
Special Requirements:
video
Contributed By:
warren
on 12-12-1999 and
Reviewed By:
Webmaster
---