Duel - Hey - Isn't That Steven Spielberg ?
In a scene where the main actor stops to make a phone call out in the middle of the Desert, you can see a front on reflection of Steven Spielberg in the phone booth. This is a well-known blooper. This movie was one of Steven Spielberg's early films prior to JAWS.
Visual Proof!
See the examples below and
post your pictures
too.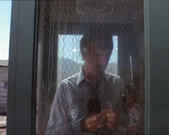 The reflection in the lower right corner.
Rated 6.5
/10 (23 ratings)
Your opinion?
Special Requirements:
VCR, DVD, TV
Contributed By:
Anonymous
on 05-03-2001 and
Reviewed By:
Webmaster
---