House On Haunted Hill - Blockbuster Vids
I first noticed this with the DVD, espically for it's extreme sharpness, but here goes...
When the "happy couple" go to have "several words" together, the movie cuts to the short-lived spook operator in the hidden room. As the camera begins to move, keep an eye on the Blockbuster videos towards the left-corner of the screen. As the camera passes the videos, they move independantly with the camera. Those videos were added in the post-production stage, I'm guessing as an effort to lower costs by advertising. Not to mention that it also kinda looks like it's floating part-way through the table. =)
Visual Proof!
See the examples below and
post your pictures
too.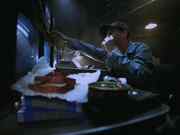 Courtesy of The Simonator
Rated 4.3
/10 (19 ratings)
Your opinion?
Special Requirements:
Just the movie, DVD suggested....
Contributed By:
Fusion260
on 03-19-2001 and
Reviewed By:
Webmaster
---