Hellraiser - Machinery in the Dark
In the scene after Kirstie solves the puzzle box and walks down the hallway, you can see quite well the dolly used to move the creature along the hallway. It's sooooooo obvious.
Visual Proof!
See the examples below and
post your pictures
too.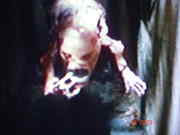 While this beast "i think his name is The Engineer"is Chasing Kirsty Cotton down a Corridor in hell you see the euipment that supports the model several times in the brief 15-20 second chase.
Rated 8.3
/10 (30 ratings)
Your opinion?
Special Requirements:
Watch the movie
Contributed By:
Sharonline
on 02-21-2001 and
Reviewed By:
Webmaster
---