Star Wars Episode 6: Return of the Jedi - Boba Fett's Antenna
In Jabba's Palace, when we see Boba Fett just standing around, his helmet antenna is on the right side of his head. Later, however, when the action starts, we see another shot of Boba with the antenna on his left side.
Visual Proof!
See the examples below and
post your pictures
too.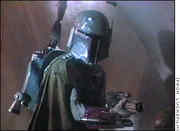 Screencap of Boba Fett's Antenna from Star Wars Episode 6.
Rated 3.7
/10 (53 ratings)
Your opinion?
Special Requirements:
None
Contributed By:
David Wolf
on 08-08-1999 and
Reviewed By:
Webmaster
---